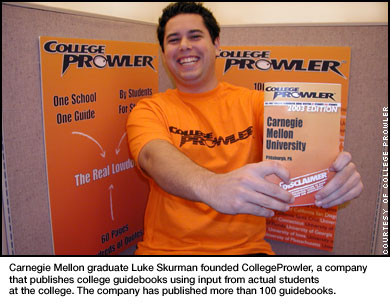 Brad J Ward of Butler University, with the help of a couple dozen collaborators in just 48 hours, uncovered a massive fraud job by college-guide-company College Prowler in starting and/or infiltrating and running over 200 "Class of '13" Facebook groups for colleges throughout the country. The entire investigation and subsequent 150 comments can be found here, on Ward's SquaredPeg.Com blog.
While some of the comments correctly suggest that some people are overreacting here, this thing is a pretty big deal. My 2 biggest takeaways on this scandal are:
1) Transparency and authenticity are absolutely essential in executing social media marketing programs. Had College Prowler simply including the words "Brought to you by College Prowler", in the info section of each group, they probably wouldn't have had a problem here. But, nowhere on the Facebook groups was College Prowler mentioned or "Match U", the company that College Prowler claims to have hired that doesn't seem to exist. Way worse, College Prowler or their agents actually set up fraudulent Facebook accounts, posing as high school students in order to gain favor in existing '13 groups and then gain administrative access to the groups. Those accounts have all been deleted, and College Prowler has distanced themselves from this whole thing, but the damage has been done, permanently.

2) College institutions had better get way more involved in social media and specifically in Facebook, immediately. Unlike groups, which are designed to be anything for and from anyone, Facebook Pages are set up to be official representations of companies and organizations. With a Page, you can communicate with prospective students and parents as well as current students and parents, and alumni- and then you can monitor groups without owning administrative control of them. There are a few dozen well-done Facebook Pages that are clearly from the college themselves; The University of Michigan is the best example I can find of a college that's on Facebook the right way. There are many colleges that seem to have a Facebook presence, but it's very unclear as to whether it's from the college itself or just its students and/or alumni. For instance, my own beloved alma mata, Boston University, has a Facebook Page- but upon further review, sadly, it doesn't look official at all. There are over 4,000 colleges in the Unites States alone- and with pretty much all college students and high school juniors and seniors using social media and most of them using Facebook, senior management at institutions in the conservative, often-slow-moving world of higher education must wake up, immediately, get moving and hire internal staff and/or social media consultants to get actively involved on Facebook and other social media. Otherwise, there are sure to be lots more College Prowlers.